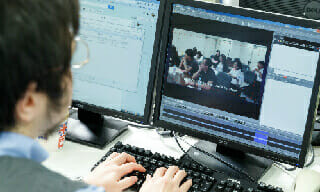 After 10 years of subtitling and subtitling management with focus on European to Asian languages, we like to look at our work as creating true craftsmanship. Every spoken word has its own nuances. How do we convey that in a different language far away in a simple message that is still truthful to the original meaning? We are aware of this responsibility day after day and we never cease to improve word by word.
Our experience gave fruit to various strengths:
Special expedited delivery: Are you in a hurry and need to get the subtitles as quickly as possible? For special occasions, we can create a subtitle up to a third of the usual delivery time thanks to our efficient workflow and skilled partners.

A curated expansive list of over 500 partners in different locations with a variety of skills.

Individual pricing: We have a small, experienced and flexible full-time staff that knows the business and the right people for each project and conditions. This allows us to adjust the price to you instead of worrying about covering our fixed costs.

Commitment to quality: Standards and requirements shift between countries and languages (and even companies). However, we don't lower our own standards and work equally hard and professionally with any language. One way we achieve our goal is by translating directly from the original to the target language. It is a common practice to translate first into English but a lot gets

lost in translation

and we minimize that risk.
Supported Languages

English, Japanese, Korean, Chinese(Traditional・Simplified, Indonesian, French, Spanish,

Russian, Italian, Portuguese, Khmer, Malay, Mongolian, Burmese, other

Medium

・Tape:HDCAM・MiniDV・Digital Betacam・DVCAM・VHS, Other




・Digital:WMV・MOV・MPEG1/2/4・AVI、Other




・Other media:Blu-Ray、DVD、CD、Other

Delivery

・Subtitle data:SST Subtitle data(mdb、sdb、cap)、text data、excel data




Videotron、TIFF data, Other




・Video data with rendered subtitles:MPEG1/2/4、AVI、WMV、MOV, Other




・Delivery medium:Various broadcasting tapes、DVD data、MXF, Other